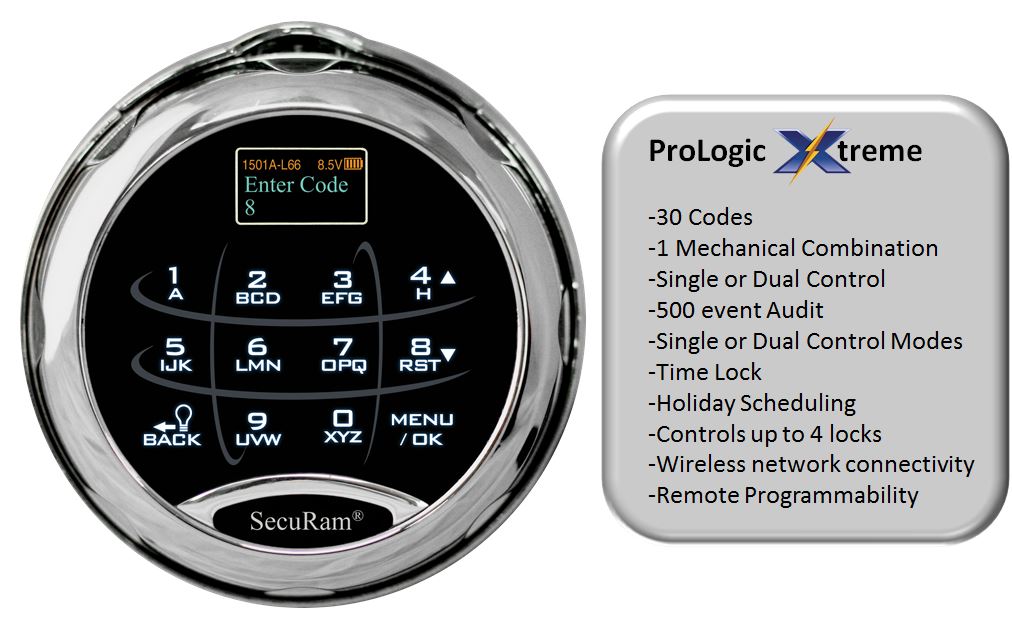 You've probably heard of the SafeLogic Series from SecuRam Systems Inc., which is their standard electronic locking system for safes.
You may have even heard about the SafeLogic Xtreme, which is their standard electronic locking system, paired with a mechanical 3 number combination lock (referred to as "SpinDial" by SecuRam), producing what is known as a "redundant mechanical safe lock".
What you may not have heard yet is that SecuRam has now introduced the ProLogic Xtreme, the same redundant mechanical lock offered by their SafeLogic Xtreme, with the advanced features of the ProLogic Series!
SecuRam ProLogic Xtreme Press Release – Jan 27, 2015
SecuRam is pleased to announce the introduction of yet another innovation in the commercial safe lock space – The ProLogic Xtreme.

The ProLogic Xtreme is a revolutionary product ideal for Banks, Retail, Jewelry, Cash-in-Transit, Casual Dining, Convenience stores and many other commercial safe lock applications.

ProLogic Xtreme is the combination of our very advanced ProLogic electronic safe lock series with the assurance of mechanical lock redundancy.  It is two locks in one – a Push Button lock for everyday use & a SpinDial 3 Wheel mechanical lock for extreme situations – access is assured, no matter what.

The ProLogic Xtreme is available in every ProLogic model feature set.  That means, we have a ProLogic Xtreme for every application.  Choose the features that your customer requires.  Here's a list of available options;

30 User Codes + 1 Mechanical Combination (SpinDial)
Color LED Screen for easy use and programming
Single or Dual Control
Time Delay
Audit Trail – date and time stamped
TimeLock
Wireless Connectivity
Bluetooth Connectivity
Network Access
Remote Programmability
and for even higher security:  Dynamic One Time Use Codes

The ProLogic Xtreme Series represents a significant advancement in the commercial safe lock category.
This was passed on to me today and, so far, SecuRam has nothing I can link to on their website, so here is the ProLogic Xtreme datasheet.
UPDATED (02/01/15) – SecuRam has added the ProLogic Xtreme to their website!  If you want to see how your safe can be retrofit with the ProLogic Xtreme, check out the great videos SecuRam has made available on the same page.
In closing, the redundant lock is not new — it was done first by LaGard, and NL / LP Locks offer one as well — but combine it with multiple users, audit trail, wireless connectivity & remote programming, just to name a few, and it sounds like you have a winner.
I haven't yet had the opportunity to put my hands on one (nor the SafeLogic Xtreme), but I'd like to.  If you have and want to share your comments, feel free to do so below!